Axel Avila is fulfilling a dream.
The former Fightin' Chick soccer player had dreamed about playing soccer in college, and that dream is now official. Avila will continue his soccer career at Bethany College in Kansas.
Avila had a ceremony on Friday at Chickasha's Activity Center.
"I'm still thinking I'm dreaming. … I always thought of going to the next level," Avila said about accomplishing his dream of playing in college.
Friday was a day that Avila could not believe had come. In anticipation of the event, he wanted to make sure everything was perfect.
"I woke up earlier than I ever have," he said. "It's still like a dream come true.
"It means a lot to me that a college actually thought that I am good enough to play for their team. And it means a lot to represent not only their college but represent Chickasha as a whole as well."
Before making his decision to attend Bethany, Avila was also thinking about a different choice.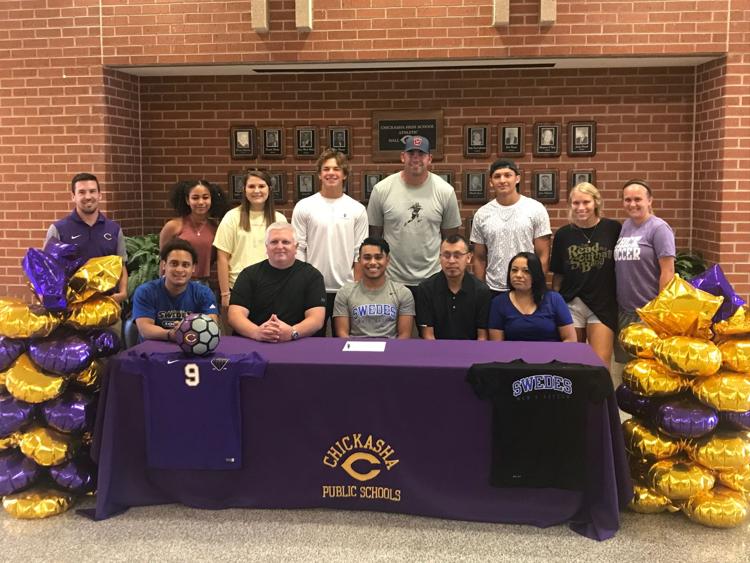 Just before touring Bethany, Avila visited Bacone College in Muskogee. He stated that he enjoyed his visit there, but he fell in love with Bethany when he visited just a couple of weeks later.
It was not long after Avila's visit to Bethany that he decided to play for the Swedes.
"The atmosphere there just kind of clicked with me," Avila said.  "I just fell in love with it … decided on that less than a week later."
Bethany is located in Lindsborg, Kansas, and competes in the Kansas Collegiate Athletic Conference in the NAIA.
Avila learned a lot playing soccer in Chickasha, including lessons about leadership and unselfishness.
"It taught me how to be a really good leader (and) how to help others," he said. "You have to actually make the team look good."
Avila also learned lessons from coach Damon Mantooth. One of the things he learned from Mantooth was how to always have a fighting spirit, even in the face of adversity.
"He taught me that no matter how bad or good the score is, you have to keep fighting from the first minute you step on the field to the last minute," he said.
Avila received All-State honors from the Oklahoma Soccer Coaches Association as a senior. He was named to the Class 4A West roster.