ALEX — The Grady County Tournament champion will reside outside of Grady County for at least the next year.
As the new team in the 2020 bracket, the Lexington Lady Bulldogs rallied from an 18-point deficit in the first half of the championship game to defeat the Amber-Pocasset Lady Panthers 48-40 Saturday in Alex. The Lady Panthers were looking for their third GCT title in a row.
Am-Po entered the game ranked No. 8 in Class 2A. Lexington entered the game ranked No. 13 in Class 3A.
In a tale of two halves, it seemed as if the Lady Panthers were going to cruise to the championship early in the game and for most of the first half. They went on a scoring run in the first quarter to go up 11-4 and led 16-6 heading to the second quarter.
During Am-Po's dominance in the first half, Lexington had no answers on how to stop Caton Muncy. Muncy scored Am-Po's first 10 points of the second quarter and helped the Lady Panthers build a 30-12 advantage over the Lady Bulldogs.
Muncy scored all 17 of her points in the first half of the game.
But Lexington started to gain momentum as the first half began to wind down. The Lady Bulldogs scored the final six points of the first half and cut their deficit to 12 heading to the second half.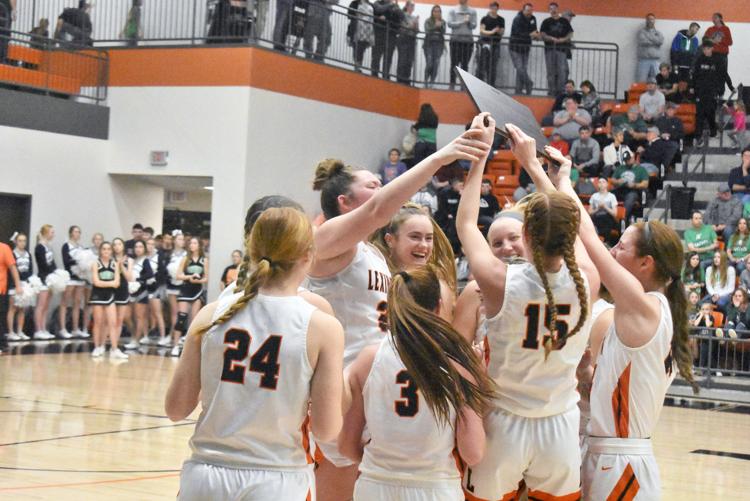 The Lady Bulldogs continued their scoring run in the third quarter and eventually tied the game heading to the fourth. Lexington outscored Am-Po 12-0 in the period to tie the game at 30 points apiece.
Am-Po did not score again until Lexington was up by eight in the fourth quarter. Hannah Gelnar broke the scoreless stretch with a 3-point basket.
A Devynn Harris 3-pointer got Am-Po within four, but Lexington scored the game's final four points. Harris had 14 points for the Lady Panthers.
Amanda Graddy led Lexington with her 21 points. Graddy averaged more than 20 points per game during the tournament. Lauren Beason added 13 points for the Lady Bulldogs.
Other results
The Ninnekah Lady Owls had a successful tournament, going 2-1 and finishing third overall.
The Lady Owls beat Rush Springs before losing to Am-Po. They finished the tournament by beating Alex, avenging a loss to the Lady Longhorns at the Longhorn Classic earlier this month.
Jayah Rodriguez and Preslee Pitre combined to score more than half of Ninnekah's points in the victory.
The Minco Lady Bulldogs ended up going 2-1 at the tournament and winning the consolation title. After a first-round loss to Alex, Minco defeated Verden and Rush Springs in its final two games of the tournament.
Lanie Hughes had 10 points for Minco in the win over Rush Springs.