ALEX — One spot in the Grady County Tournament championship game was on the line.
The Alex Lady Longhorns put up a valiant effort against the Lexington Lady Bulldogs in Alex on Thursday, holding a brief lead in the second quarter. After leading by just six points at halftime, Lexington pulled away for a 58-38 victory in the second semifinal of the GCT.
The Lady Longhorns were trying to knock off the 13th-ranked team in Class 3A and advanced to the semifinals with a 43-39 win over Minco. Lexington defeated Verden 78-23 in its first-round game.
The Lady Bulldogs jumped out to a 10-2 lead in the game. Amanda Graddy got the Lady Bulldogs off to a strong start, scoring eight of the team's 10 points in the first quarter.
But the Lady Longhorns began to work their way back and made the score 10-9 at the end of the first quarter with a 7-0 scoring run. Maddy Morris gave the Lady Longhorns a 13-12 lead in the second quarter, but Lexington took the lead for good on a 3-pointer.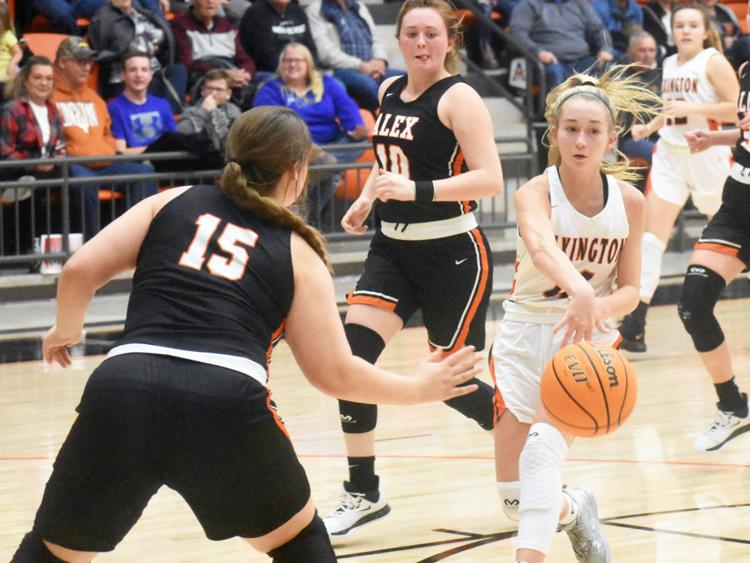 Lexington held a 22-16 lead at halftime.
After scoring 13 of Lexington's 22 points in the first half, Graddy got plenty of help in the second half. The duo of Lauren Beason and Anna Sample combined to score 21 of the team's 36 second-half points. Those two players were both scoreless in the first half of the game.
The Lady Bulldogs hit three triples in the third quarter and nearly matched their point total from the first half in the period. They outscored Alex 20-10 and led 42-26 after three quarters.
The Lady Longhorns continued to fight in the final quarter and got an offensive surge from Kaitlyn Goleman. Goleman scored eight of her 10 points in the period, but it was not enough to catch up to Lexington.
Callyn Carnes led Alex with 14 points, and Graddy scored 24 points for Lexington. Beason had 12 points for Lexington.
Lexington advanced to Saturday's championship game against Amber-Pocasset, scheduled for 6:40 p.m. Alex fell to the third-place game against Ninnekah, scheduled for 3:40 p.m. Saturday.