Local elected officials condemned the acts of violence that took place at the United States Capitol on Wednesday in protest of President-Elect Joe Biden's Electoral College victory.
Fueled by President Donald Trump's baseless claims of voter fraud, pro-Trump supporters stormed and overtook the capitol.
"The push by Mr. Trump to disenfranchise millions of American voters is in large part responsible for the unlawful and un-American acts we witnessed at our nation's Capitol [yesterday]," Oklahoma state Rep. Merleyn Bell, D-Norman, said. "Violence is not the cure to what ails our country, nor can it be remedied by mob rule."
Bell said that the people of America deserve leaders that seek to unite America, not divide it.
"When we reflect on this moment, may we be reminded that our democracy is fragile but it's strength lies in our shared commitment to our Constitution and the freedoms and protections enshrined therein," Bell said.
The violent riots were also condemned by Republicans, including U.S. Senator Jim Inhofe, R-Okla.
"My staff and I are safe and grateful to all law enforcement for risking their safety to protect us," Inhofe said in a tweet. "This violence and disrespect for our Constitution and our republic is unacceptable and must stop now."
U.S Congressman Tom Cole, R-Okla, who represents Norman, had planned on objecting to the Electoral College votes prior to the riot, The Transcript previously reported. Cole released a statement on the violence that transpired, saying what took place on Capitol Hill was not the "American Way."
"I am outraged by the lawless protests that unfolded at the United States Capitol today," Cole said. "While Americans have the right to passionately voice their views and peacefully dissent in protest, I strongly condemn the perpetrators of this destructive and violent activity. Such shameful behavior runs contrary to upholding and respecting the constitutional rule of law and threatens the preservation of our great Republic."
Oklahoma state Sen. Rob Standridge, R-Norman, claimed that he could understand the frustration of the individuals at the capitol and claimed that it derived from "obvious fraud" in the 2020 Presidential Election, a baseless claim that has been made by Trump despite no evidence to support it.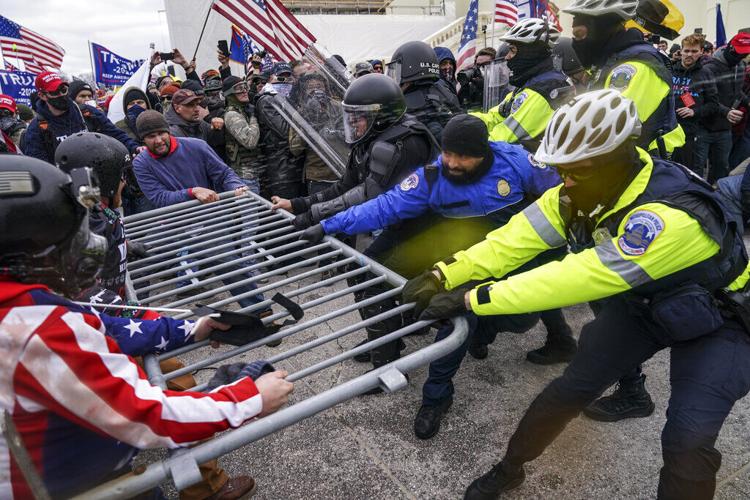 Oklahoma state Rep. Jacob Rosecrants, D-Norman, said that it "amazes" him that one man (Trump) can incite violence with so many Americans with nothing more than disinformation and lies.
"It does hearten me to see many of my colleagues across the aisle here in Oklahoma call for this to end and for these folks who are storming our United States Capitol to be prosecuted to the full extent of the law," Rosecrants said. "I hope and I pray that calmer heads will prevail and we can peacefully progress to the next presidential administration."
Oklahoma state House minority leader Emily Virgin, D-Norman, directly blamed Trump for the violence that took place on Capitol Hill. Virgin said it was a "coup attempt" that was incited by the president and was aided by members of the Senate and the House.
"This happens in other countries and we watch on TV in horror," Virgin said. "Now it's happening in America, and it's absolutely terrifying. However, I cannot say that this is surprising, given the incitement we have seen from the President and the complicity of many of those in his party. Their silence has been deafening over the past four years, and this seems to be a logical conclusion to the President's actions."
Norman Mayor Breea Clark chimed in on the matter, saying she was at a loss for words.
"My heart goes out to everyone involved. We're better than this. We've lost our way," Clark tweeted. "When this is over it will be up to the next generation of leadership to fix this. Get ready."
Democratic State Sen. Mary Boren of Norman said the "white supremacists and Christian nationalists" that make up Trump's base were "empowered" and "emboldened" to engage in a violent attempt to dismantle the constitutional transfer of power.
"Their abomination of gossip, lies and slander have corrupted the trust in one another and our Constitutional form of government," Boren said. "Hopefully, enough will realize the corruptive power white supremacy has in our nation and state and make the necessary sacrifices to transfer power to our Constitution and voters. Fortunately, our Constitution survived the Civil War and President Andrew Jackson's rebellion, and soon law and order will be restored and [President-Elect] Biden will become our next President."