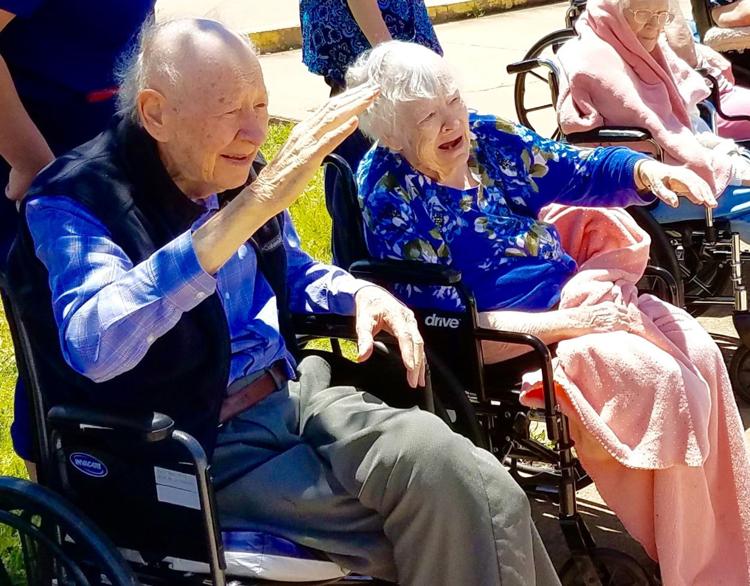 ENID, Okla. — A procession of more than 100 cars and hundreds of loved ones and well-wishers formed a drive-by parade Tuesday, to bring cheer to local nursing home residents and staff.
The parade gathered at Crosslin Park at 12:30 p.m., then drove past waiting assemblies of nursing home residents at Golden Oaks, Brookdale, Garland Road and The Commons.
Participants in the parade included workers from several area hospice and home health companies, Enid Fire Department, Life EMS, several motorcycle clubs, Corvettes of Enid, residents' family members and community members who just wanted to bring cheer to those in need.
Sherry Nichols, with Humanity Hospice, organized the event, she said, to show love to those who have been isolated in quarantine during the pandemic.
"The folks at the nursing homes have been shut in, and they're not even seeing their own families," Nichols said.
That impact hits especially hard, she said, for nursing home patients and their families as the patients near death.
"Their loved ones normally would be there almost every day, and now they can't do that," Nichols said. "It is very important to see family, especially when they're in hospice and dying."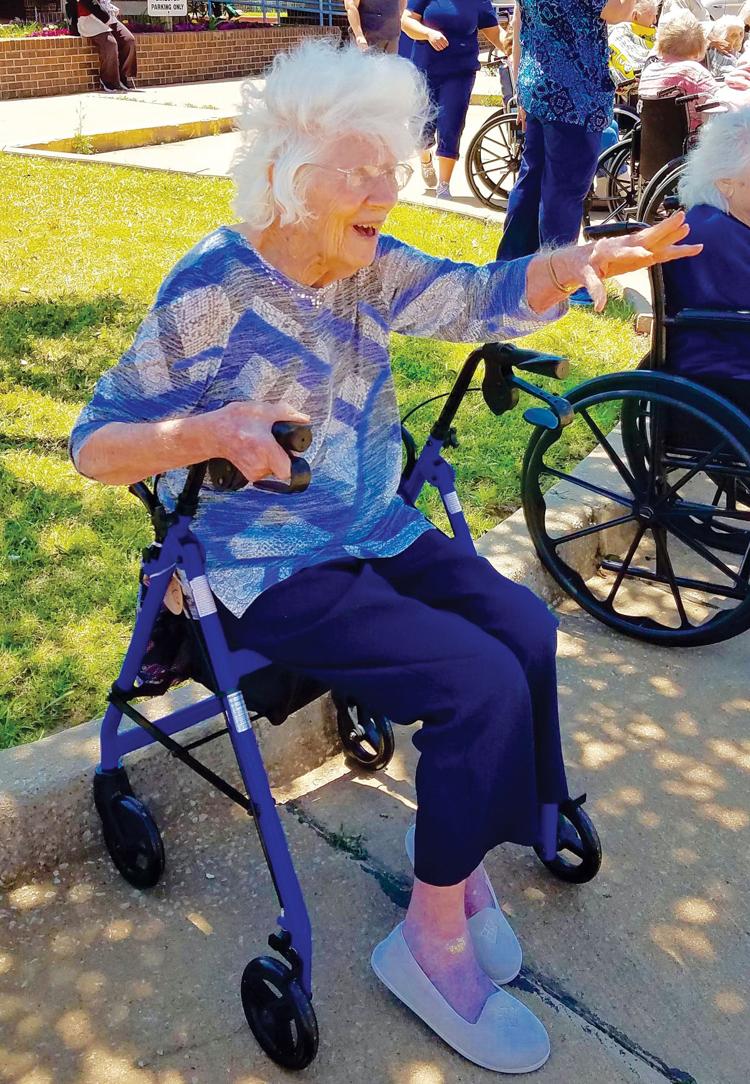 Loved and not forgotten
Jack Staples, with Enid Downed Bikers Association, said the parade was a tangible way to show people in nursing homes they are loved and not forgotten.
"We wanted to give back to our folks who are in nursing homes," Staples said. "The folks who are in there can't see their families right now, and we'd like to just be family to them."
Staples said nursing home residents hold a special place in his family. He is a retired nursing home administrator, and his daughter, Kristie Browne, is an account liaison for Elara Caring, a home health and hospice company working in Enid.
Browne said the quarantine has been hard on home health and hospice aides and nurses, who have been restricted from seeing patients they've come to regard as family members.
"Right now, because of the COVID-19, a lot of us are still not able to see our patients in the nursing homes," Browne said. "They're family to us, and we wanted to be able to reach out to them and show them we care."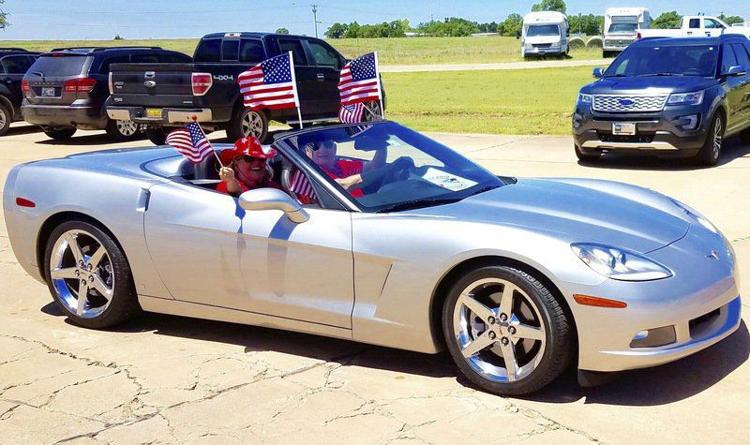 ❛A supportive community❜
Browne said it was great to see a parade that started as a procession of home health and hospice workers quickly grow to include people from all walks of life in the community.
"Enid is such a supportive community, and when you see this, it warms your heart," Browne said. "It's always good to see the community come together, especially to support our seniors."
Dick Yuhnke, with Corvettes of Enid, said the club's members like to use their love of Corvettes to honor and support members of the community.
The club recently formed a procession of Corvettes when a member's wife died, and also hosted a birthday drive-by parade for a member's son who turned 18 during the pandemic.
As he and other members of the parade prepared to start their route, Yuhnke said he hoped the nursing home residents, staff and the community as a whole would take away one simple but important message: "People care."
Ginger Row, also with Corvettes of Enid, said it is that message of caring that drew her out to Tuesday's parade. She was inspired after hearing of another such parade, put on for her disabled great-nephew, who lives in Alabama.
When he turned 18 recently, locals rallied to put together a drive-by parade of more than 200 cars, trucks and pieces of large equipment.
Row said members of the long procession came from all over Alabama to drive past a house on a dirt road to honor her great-nephew.
"When I saw this was happening, I knew I had to come out and pay it forward," Row said. "It meant so much to him, and I wanted to share that with others."
Support and compassion
Nearby, several members of Enid's Own Female Riders, a women's motorcycle club, also said they were drawn to the parade by the desire to share support and compassion with those in need.
Darla Morvant said the club has been riding together for about 10 years. They ride in Veterans Day events and host an annual an all-female poker run to raise money for charity.
Morvant described the club as a "family of our own choosing" that works to empower women, combat human trafficking and support charity.
Several club members, including Morvant, Melissa Watson and Tanya Prochaska, who also rode in Tuesday's parade, are best friends with event organizer Sherry Nichols.
When they heard Nichols was organizing the event, Morvant said there was no doubt they'd support it.
"Whenever any of the girls call, we answer," Morvant said.
❛Hopefully, she'll be happy❜
Many in the parade were family members hoping to catch a glimpse of their loved one as they drove past their nursing home.
Joshua Alcantra was waiting to join the parade Tuesday so he could see his mother, Melinda Johnson, at Golden Oaks.
Alcantra said he'd normally go to see her almost every day. He was eager to see her, and hoped she'd catch a glimpse of him as well.
In the brief interaction of the parade, Alcantra said he hoped his mother, and all the residents, would take away one reaction: "Hopefully, she'll be happy."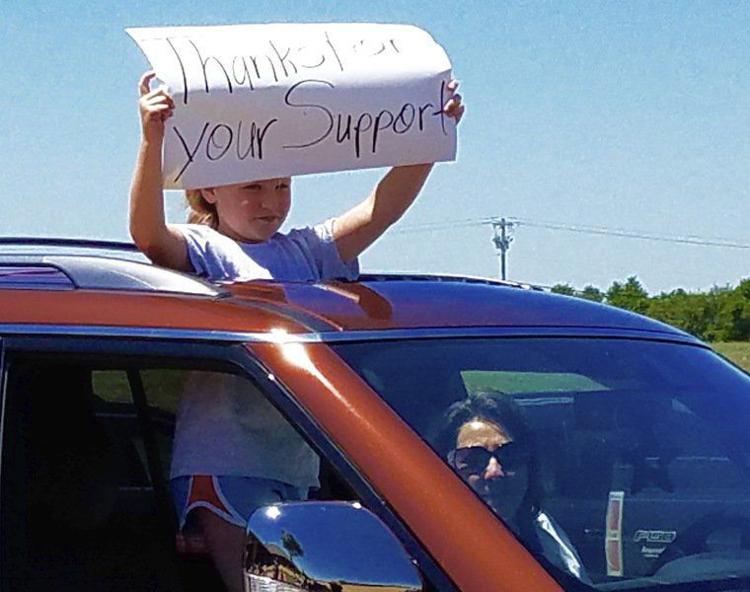 ❛It meant a lot❜
As the parade wound its way into Golden Oaks, where many residents had been moved outside to see the procession, general manager Gary Lillie said the event already was lifting spirits among the residents.
"This is just wonderful," Lillie said. "This is a great encouragement for all these residents who feel like they've been in prison for a while. We really appreciate everyone doing this."
Jeff Jackson, community relations director at The Commons, said even if residents didn't have family members in the parade, it still was a great emotional boost to see people care about them.
"Getting to see that people went out of their way to come and see them — it meant a lot to them," Jackson said. "Things like this are helpful, because they create interaction at a time when we're not able to have much interaction."
Nichols said she hopes to organize another drive-by parade in the coming weeks for nursing homes on the east side of Enid.